ECARS Member Camping and Ham Radio


Many of Our members enjoy not only mobile operation, but taking their rigs on camping trips just about anywhere. If you have gone on a recent camping trip. Tell us about. Send us pictures and we will gladly post them for everyone to see. Just send a email to ECARS Webmaster with your information, destination and all pictures that you have taken on your camping trip.
Click here to Return to the ECARS Home Page




Getting To and From the Camp Ground is Not Always Easy!
Mike Davis, WA1MAD has another view of camping. The road from camp in Maine was a mess. Momentum was lost and here I sat. Pulled out by a Chevy...Yikes! The HF rig, IC706mk2g, with an LDG IT100 auto tuner, 3 Hustler antennas (not in this photo) atop the rear mast. Also in my Jeep, a Motorola GTX, 900Mhz and a 2 meter Kenwood TM281A. I decided to keep the 2 meter rig, even though the 706 would cover it. Do I ever grab the wrong mic??? Don't ask. BTW a 4WD rule. "Don't slow down in a go place"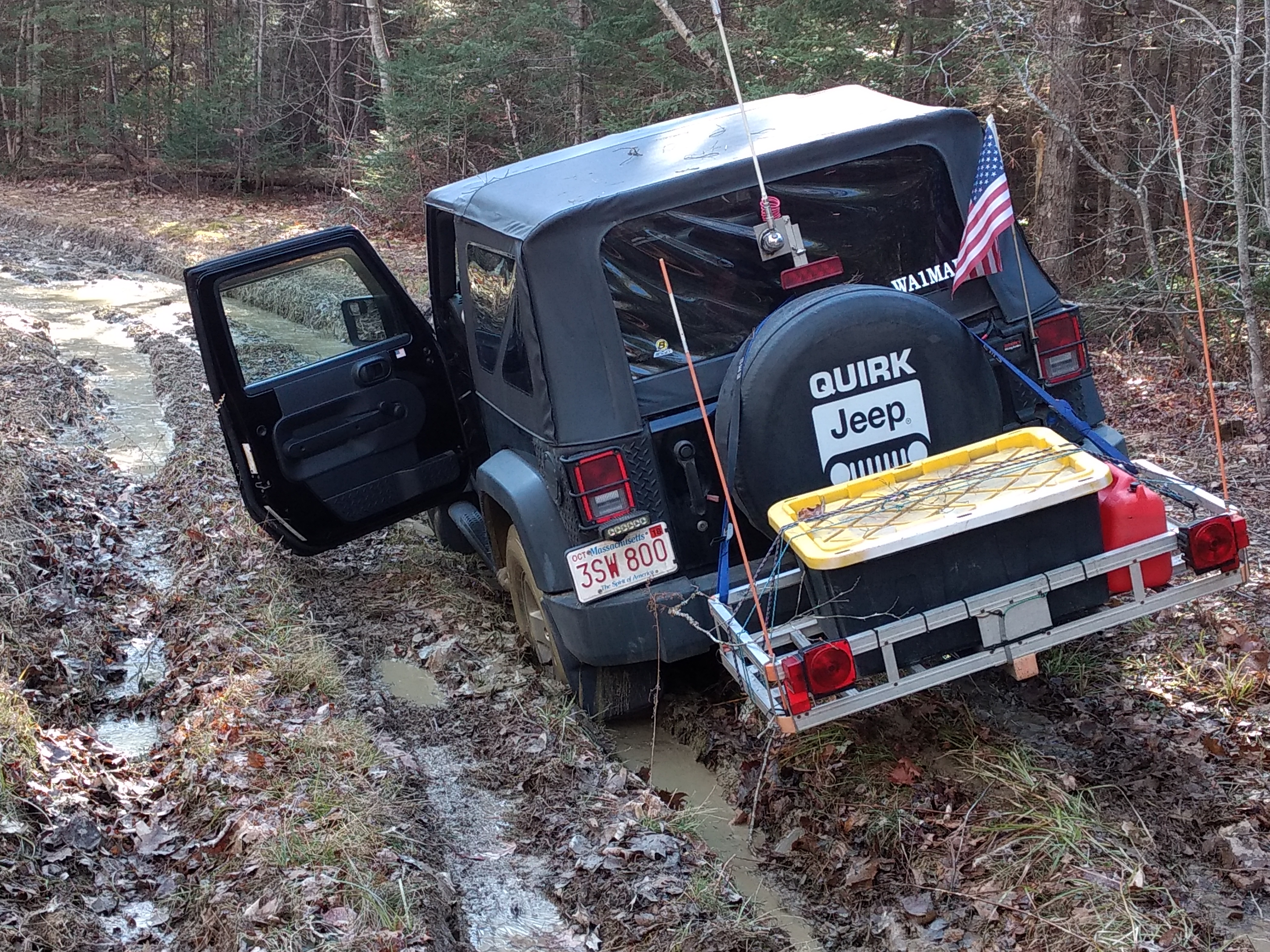 Great Pic Mike
11/29/2017


Camping and Ham Radio - A Great Article by Mike Pechura, WA8BXN.
Ham Radio operators are always looking for new experiences to use equipment from their favorite hobbies. Mike Pechura, WA8BXN is definitely NOT an exception to this. He packs up his ham gear and sets out in his Class B motorhome for a camping and radio expedition. Mike has been kind enough to put together an article for our website, highligting his most recent adventure. Please click here. (Adobe Reader or similar required for reading) Thanks Mike for the interesting read.
7/2/2017 Updated 9/21/2017


Camping with my Wife and two Dogs in our T@B camper by Paul Gerhardt, K3PG.
This past month we went to Cape Charles VA area and spent the last part of Labor Day Weekend at Kiptopeak St. Park. Was there Tuesday AM and ran my ECARS NCS shift from the Campground using my simple mobile setup. If you have thought about being a net control and don't think your station is 'good enough' I often have just as many check ins using my mobile set-up this time I did. With some help from relays.

In the 'Old Days' before Cell Phones I rember taking my YaesuYaesu FT7 10 watt radio to Maine and Florida in my '71 VW Camper and using it to pass traffic, letting friends and family know where we were. Once we found out about a new niece that was born and got to stop by and see her in NC on the way home to MD from FL. My Father in law was a ham (KI4IH) and that helped a lot

These days I use an Icom 706 and a 3 magnet mount and carry a 40M and sometimes a 20M hamstick. The radio in out outback is connected via a cigarette plug and works OK. In my Mini Cooper I use a nicer straight to the battery wire, which works better.

ECARS history is to support mobile operations so get your HF gear working for your trips and get on 7255.

See pictures below sent to us by Paul on his recent camping trip.
9/21/2017



Getting hooked up 2013 Outback 3.6 and T@B Max S

Moon over campground at Kiptopeake St. Park

Trish and Camper with dogs

View of old Concrete ships used as artificial reef

K3PG at Kiptopeake beach

Camping companions Jack and Abby

Camper and Moon

NC Radio Milestone

Boondock set up water jug and solar panel

K3PG at the lighthouse