Welcome to ECARS
We would be pleased to have you check into the ECARS net. ECARS is an open service. If you enjoy "ECARS," consider joining. See 'Become an ECARS Member' below and the "Membership: Application / Renewal"

menu option above.

7/27/2016




What is Your New Year's Resolution?
We have some Suggested New Year's Resolutions For All of our Members. Send us yours and we'll add it to the list.

1. use least power necessary for the communications
2. talk slowly and distinctly when conditions are poor
3. be nice to everyone you meet on the air, even the LIDs
4. contact the Net Manager and volunteer to be an NCS


12/23/2017


ECARS supports Ham Aid efforts in Puerto Rico
After unanimous approval by the ECARS Board of Directors, a grant of $1000 has been awarded to the ARRL Ham Aid program. The ARRL, working with the Red Cross, has supplied 50 operators and HF and VHF equipment to facilitate communications in Puerto Rico. Fifty volunteer hams have been selected that will work as teams of 2 and will be in Puerto Rico for up to 3 weeks, and the ARRL has equipped each team with an HF transceiver, software, a dipole antenna, a power supply and all connecting cables, fitted in a rugged waterproof container. In an unprecedented and crucial move, the Federal Emergency Management Agency (FEMA) agreed to help get the Ham Aid gear to Puerto Rico. In addition to 25 complete HF stations, the League also is sending two VHF repeaters, a dozen hand-held transceivers, five mobile radios, a number of small 2-kW portable generators, solar-powered battery chargers, and a pallet-sized load of batteries. The hams and their equipment will be sent to Red Cross shelters extending from San Juan to the western end of the island. In addition, ARRL has committed to purchasing up to $50,000 worth of new Ham Aid gear for this and for future emergencies. ECARS is pleased to support this effort through our Grant program. To Apply for a Grant click here for more Information.
10/4/2017


HD8M DXpedition to Galapogos
The HD8M DXpedition has ended on Isabella Island of the Galapagos Islands. ECARS' own Ellis Rud,N1MWJ, 10103, was a member of the DXpedition and he reported that they were on the air between 0500 & 2300 Galapagos time (GMT-6). We hope you were able to make a connection with HD8M. Ellis put together a beautiful pdf file of his trip here. (Adobe Reader or similar Required.) For more beautiful photos sent to us by Ellis here. 9/27/2017 updated 9/29/2017


ECARS Grant Awarded
Following a successful application and approval by the ECARS board of directors, a grant of $948.20 has been awarded to The Educational Alliance for Amateur Radio, a 501 C3 non-profit corporation in Pottstown, PA, that conducts The Boy Scouts of America Radio Merit Badge courses for Boy Scouts and the ARRL Wireless Technologies Award for Girl Scouts. The classes are designed as an outreach program to promote amateur radio awareness. The programs are also designed to use amateur radio as vehicle for STEM (Science, Technology, Engineering and Math) education. The awarded funds will purchase Radio receivers, transmitter and Direction finding antennas to be used in the courses. The East Coast Amateur Radio Service, Inc. can provide financial support for other worthy amateur radio related initiatives. The focus of this grant program is to support Amateur Radio and other non-profit organizations with programs to educate, license and otherwise support Amateur Radio activities with emphasis on youth-based projects. See menu item 'Organization: Apply for a Grant' OR click here for Information.
6/16/2017


Upcoming Hamfest for Early 2018
The 2018 Frostfest will be on Saturday, February 3, 2018, from 8:30AM to 3:30PM at Richmond Raceway Complex in Richmond, Virginia.. ECARS will again have a table at the 2018 Frostfest, located at position ORG-05. For More information, and to find the location of ORG-05, check out their website here.
11/2/2017 updated 1/2/2018
New/Renewed Members
Welcome to our new and renewed members

(1/4/2018 to 1/15/2018)
| Call | Name | Call | Name | Call | Name |
| --- | --- | --- | --- | --- | --- |
| N1SDU | Richard | K1YXP | Matt | KB3RA | George |
| W0JAY | Jay* | WD8NSC | David | WF2D | Howard |
| WB2FBP | Mike | KD2HOR | Tianna | KC2VVX | Milton |
| N1VXQ | Ron* | W2KAP | Richard | KB1YNG | Joe |
| N8EMA | Jeff* | N1STV | Steve* | KY2H | Keith* |
| K2JVX | Lloyd | WA3IJU | Ken* | | |

* Lifetime Memberships


Become an ECARS Member
The annual dues are $3.00 per year, and you can subscribe for 1 or 3 years, or for a lifetime membership. Applications can be submitted either by mailing a paper application form, or by submitting electronically using the PayPal® application option.

If using the PayPal® option, use the 'Membership Level' dropdown box to select either a 1 year, 3 year, or lifetime membership. Be sure you always provide your current call sign when submitting an application or renewal.

See the 'Membership: Application / Renewal' menu option. After submitting your application, you can check that your membership has commenced using the 'ECARS Member Lookup' option above in this column, but be patient. It will take a while for it to show up.
7/16/2016
ECARS Membership Certificates
See additional and revised ECARS Membership Certificate options at Membership: Order Membership Certificate . New options include signed certificates, on various papers, in either portrait or landscape, and mailed to you.

9/1/2016




When Did You 1st Operate ECARS?
ECARS has nearly 50 years of operating history, going back to 1968. Who can demonstrate that they worked, or were members of, ECARS back in the "good old days"? Tim, K3DPT, has ECARS membership number 204, which Tim reports goes back to 1968. Rick, K3IW, has made an impressive claim of QSOs back to 1969 . Jeff, K2CGH, has ECARS QSL cards from 1972/73 when serving as an NCS in his mid-teens after school. Recently we heard from Phil K3TU, who, in 1968/1969, would meet up with his Uncle Carl, W8BKH, every Saturday morning to find a clear channel to meet and communicate. Who else has old history with ECARS?


8/1/2016 Modified 12/22/2016, updated 12/16/2017
Visitor Number
Since 3/13/2017

Official Announcements
ECARS Service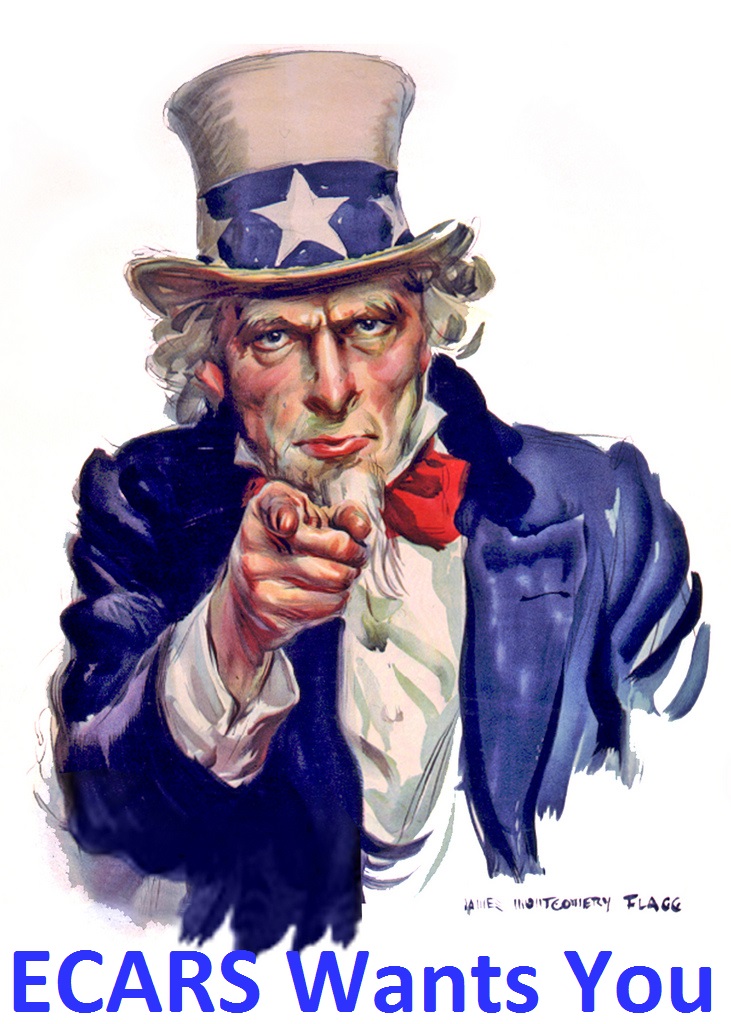 The backbone of ECARS is service by its members for its members.
1/15/2017

2018 Officers and Directors
The 2018 Officers and Directors assumed office on 15 January 2018. See all Officers, Directors, and Appointees here 1/15/2018

News Collector/Reporter
ECARS is looking for a volunteer to serve as our news collector and reporter. In this capacity, he/she will be responsible to the Officers and Board for collection of information regarding activities our members have engaged in (e.g. ham fests; participation in ham related activites such as NPOA, or traffic passing, or similar events of note or interest; home brew construction projects; Field Days; or non-Ham life events of note). He/she would prepare short write ups of these and submit them to the Webmaster or PR Specialist, or both, for inclusion on the ECARS webstie, the ARRL website, and/or local news organizations, as appropriate. Please contact K3PG by email if you are interested in this position.

3/29/2017



Net Control Operators Needed To volunteer, contact The Net Manager

ECARS Grants The East Coast Amateur Radio Service, Inc. can provide financial support for worthy amateur radio related initiatives. The focus of this grant program is to support Amateur Radio and other non-profit organizations with programs to educate, license and otherwise support Amateur Radio activities with emphasis on youth-based projects. See menu item 'Organization: Apply for a Grant' OR Click Here for Information.

Feb 2017



Swap and Shop
Catch the ECARS ON AIR Swap & Shop, now Running on 7.255 on Saturdays from 12:00 to 1:00 PM. Since the ON AIR Swap and Shop has been running for a few weeks and appears to be doing quite well, ON LINE Swap and Shop is no longer accepting items for sale, wanted or swap. If you wish to have your items resubmitted you must check into the ON AIR Swap and Shop on Saturdays. They will be posted on the ON AIR Listing


12/31/2017





End of Official Announcements
Member Information Changes
If you have changed your Call Sign or email address please see "Membership: Update Membership Data" page for instructions about how to update them.

7/16/2016
Show Us Your Shack
It is always a pleasure to see how other Hams have set up their Shacks. So, ECARS has a section of the website dedicated to showing pictures of member's shacks. If you have not done so already, share your pride and joy on the website.
Follow the menu option above to view member's shacks. See the instructions for submitting your "Shack" photo for inclusion in the slide show on the "Operations: Show Us Your Shack" page. This is for ECARS members only.
7/16/2016
Propagation Information
»»
WWV Solar Indices ««


Space Weather Prediction Center
»»
Space Weather Overview ««


»»
D-Region Absorbtion Predictions
««
»» Dashboard ««
»»
FoF2 Map
««